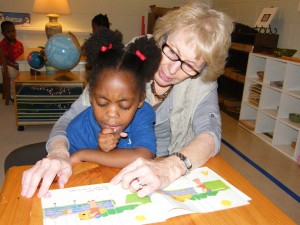 The Academy's curriculum is based on the Montessori Method, which has proven successful for children who require specialized instruction in a nontraditional setting.
Academic coursework is supplemented with arts education, physical training, life skills coaching, and religious instruction to develop the whole child. Our goal is to provide a supportive and nurturing educational environment that extends beyond the classroom.
Primary (ages 3-6 years)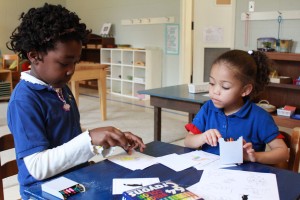 The Primary classroom uses Montessori materials in the areas of: Sensorial, Practical Life, Mathematics, Language, and Geography. The focus is always on developing the "whole child" through hands-on learning experiences and work that fosters independence. Young children learn through movement, repetition, and social encounters that train them in processes that create success. Jubilee is centered on the Bible; students learn scripture and God's love for them as the foundation their lives and futures are built upon.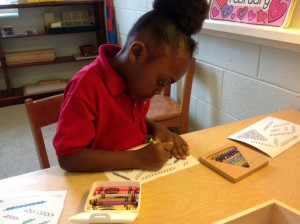 By age 6, Jubilee students are able to: care for themselves and their environment; use the decimal system and basic mathematical operations; identify continents, countries, and cultures around the world; and begin to write in cursive and read independently. Students are moved forward to the Elementary classroom based on readiness evident from scientific observations and records of work along with appropriate socialization skills. Teachers work closely with parents, who are required to participate in Practical Life activities and to observe in the classroom regularly. From discussions over the observation notes, parents and teachers build strategies to ensure progress for each child.
Elementary (ages 6-9 years)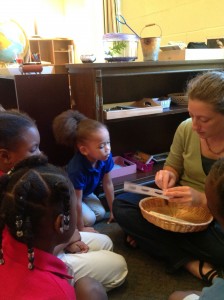 The Elementary classroom uses Montessori materials in the areas of: Mathematics, Geography, Science, and Language. These students learn to identify and place all 50 states on a blank map and to replicate flags from individual countries on specific continents while learning facts about those countries and cultures. Math extends with the Golden Bead materials into Long Division, Geometry, and Advanced Multiplication in preparation for Algebra. Students manipulate materials and then translate the process into written work.  Diagramming sentences and classifying parts of speech, journal writing, and research compose the Language curriculum for this age group. Hands-on science materials and outdoor gardening gives students the opportunity to investigate and question the world around them. Caring for and benefiting from a garden has become a strong element of Jubilee's curriculum for all ages.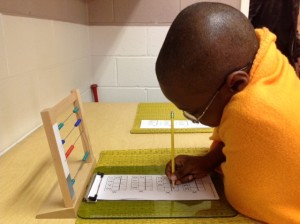 Experience has shown us that children older than this group can be difficult to "re-train," particularly when the family support network is missing or runs counter to the values we are trying to instill at the Academy. Our success with children in the community is best when we get them into the program early and work with them and their parents along a continuum. We are targeting younger children for enrollment, even infants and toddlers, who will participate in the weekly program with their parents and grow into the Primary class at Jubilee with a firm relationship and sense of our high expectations.
Upper Elementary (ages 9-12 years)
The Upper Elementary age students are challenged by independent learning experiences that require the use of their focus, research skills, and problem solving in all academic areas. They must progress to successfully organize their space and materials, to use self-discipline strategies, to complete extensive work cycles, and to accept responsibility for school-wide maintenance and chores. During these years, the students are placed into leadership roles as "huddle leaders" (Fellowship of Christian Athletes concept) for younger students and family groups. As "huddle leaders" they help to set up the dining room for lunch, serve, head a table, and clean up after lunch. They help younger ones during outdoor activities, arts and crafts, sports events, and gardening. During Parent and Family Events, they lead huddles/teams through intentional group building activities and learning experiences. We see maturity as it happens in the willingness of these "huddle leaders" to volunteer to serve others around the school and in the community. Bible study, character building strategies, art, music, and athletics, amidst strong, positive relationships, help to nurture the "seeds of promise" within each child.
Middle School (ages 12-14 years)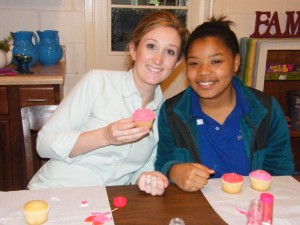 According to brain research, this is the perfect age to begin the "earth kinder" phase of Montessori, which is physically challenging and lends itself to academic extensions from hands-on experiences. Our dream is to cultivate a small Jubilee farm where students actually live for specific school terms while learning sustainable farming. Raising animals and tending a garden for food, learning to build and maintain structures, taking responsibility for organizing and maintaining personal and environmental spaces, participating in daily life work and problem solving on a farm – all work together to build productive, independent, environmentally conscious, healthy, and well-rounded young people who will be prepared to follow God's call on their lives and positively impact others.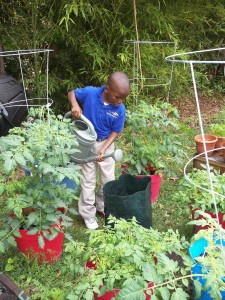 Until Jubilee is blessed with farm property to develop, we have created raised garden beds that house vegetables and flowers during three seasons each year. We also train our students to lead in the nurturing and maintaining of the school building and grounds. This class is responsible for serving, and cleaning up after, lunch each day for the entire school family. Intentional hands-on lessons, such as changing the oil in an automobile, cleaning out the refrigerator, using and maintaining small lawn equipment, taking the vacuum cleaner apart for cleaning and routine maintenance, replacing light bulbs around the school, purchasing and replacing headlights on school vehicles, and many more tasks, give students opportunities to learn and practice the skills of problem-solving, perseverance, taking initiative, building self-confidence, and becoming a valuable part of a healthy social group.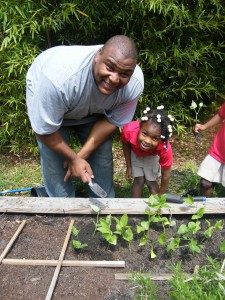 The skill of creative curriculum building is required for the strong, patient, talented teachers and coaches for this age group. It takes sacrificial dedication of time and effort to expose these students to vast amounts of History, Science, Math, Writing, Foreign Languages, Current Events, and Technology, integrated into units that hold the interest of such an active, transitional stage. This group needs lots of social interaction AND plenty of independent study time to identify and develop individual strengths, and to recognize challenge areas that can be modified with intentional habit changes. Young people in this age group are thoughtful, creative, and extremely capable when placed into age appropriate decision-making leadership roles, with guidance and mentoring available. Work ethic and very high standards must be ingrained, and self-discipline must become internally motivated, during these critical years when the hormones, emotions, and brain development of middle school age students are in constant motion!
High School (ages 14-18 years)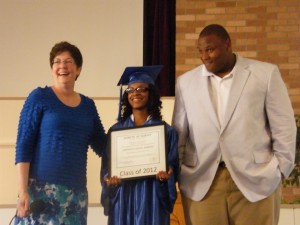 By the time our children reach high school age, their habits and beliefs should be well established to allow them to further their education in their target environment. Our goal  is to transition children into their school of choice, whether it be another independent SCISA school, a successful public school in the Columbia area, or an excellent boarding school situation, such as the Hershey Farm School in Pennsylvania. When our  older students are comfortable attending school with others who share similar life goals,  beliefs, and values, they can make conscious choices that remove them from the cycle of dependency and poverty, and any social stereotypes that hinder mobility and excellence. We would like all of them to pursue academic degrees or career training that enables them to be productive, contributing Christian citizens – who are prepared  for the work God has for them to do and who WILL be the firm foundation for the next generation, according to God's Word! Our HOPE and expectation is for Jubilee students  to choose higher education and training that will give them healthy CHOICES in life!